Forum Rules
Welcome! These Forum Rules have been put in place to ensure that Egg Cave stays safe and enjoyable for everybody.
1. Respect all players and Egg Cave staff members.
Respecting people at Egg Cave means being kind and courteous, not publicly harassing them (i.e. don't call other users out), and keeping your cool in tense situations. The golden rule at Egg Cave is "Do unto others as you would have them do unto you." If you have a disagreement with somebody, discuss it via Mail. If the situation cannot be resolved, ignore the other user and "agree to disagree" before things get out of hand.
2. Spam (Short Pointless Annoying Messages) is prohibited.
Spam includes:
Posts that do not further the discussion. (Writing "I agree with the person above" doesn't contribute anything to the discussion.)
Irrelevant posts that do not further the discussion. Stay on topic!
Excessive use of smilies or punctuation.
Excessive chat speak — please use proper English for the sake of everyone's sanity!
Creating a new topic when a similar, active one already exists.
Bumping topics. Post something meaningful instead.
Creature begging. (See Terms for our definition of creature begging.)
Posts that stretch the page (or break the Egg Cave layout).
Excessive use of hash tags.
"I'm Quitting — will you miss me?" topics. Instead, post on your close friend's walls, update your profile, and say goodbye. These topics tend towards too much drama.
3. Do not give out or attempt to obtain personally identifiable information.
Safety is very important at Egg Cave: information like your full name, home address, email address, and phone number should be kept to yourself. Feel free to give a general idea of where you live and your age but refrain from posting information that could be used to find you in the real world.
4. Do not attempt to scam or hack other users.
Common scams are:
"Freezing" scam — a user will promise to freeze your creature with Essence of Litsdnats if you transfer it to them. This is how creatures get stolen.
Email scams — scammers may try to gain access to your email so they can use the "Lost Password" form to reset your password. Do not give out access to your email.
Password scams — scammers may try to obtain your password. You should never share it no matter what another user promises you!
Impersonating Egg Cave staff members — Egg Cave staff members will never ask for your password or personal information.
Scammers and hackers will be banned immediately.
5. Keep it rated G! The following is not to be posted under any circumstances:
Links to harmful websites (cookie grabbers, trojans, viruses, worms)
Links to suggestive, obscene, or rated "R" web sites
Links to scam web sites
Any sites that are considered illegal by United States law
Posts containing discriminatory, hateful, sexual, profane, or inappropriate comments
Swear words (allowed words: gosh, stupid, crap, heck, dang, sucks)
Any talk that you would never say in front of or to your parents
Impersonating an Egg Cave staff member
Backseat moderating — it's when a normal user acts like a moderator; use the "Report" button instead.
Posts discussing banned users' accounts
All posts should be suitable for all audiences.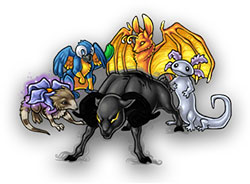 Thank you for reading this page!
These rules ensure that everybody can enjoy Egg Cave.